The urgent need for effective tools to limit the damage of COVID-19
The Access to COVID-19 Tools (ACT) Accelerator was launched in April 2020 by the World Health Organization and a range of global partners. The aim of this new collaboration is to make diagnostics, therapeutics and vaccines for COVID-19 accessible to everyone who needs them worldwide.
Unitaid is pleased to work alongside Wellcome as co-convenors of the Therapeutics Partnership, which seeks to develop, manufacture, procure and deploy therapeutics for the various stages of the infection.
Given the close link between testing and treating in the COVID-19 response, Unitaid co-leads the work of the Diagnostics Partnership on ensuring market readiness. Finally, it is also engaged in activities for health systems strengthening as part of its work to ensure equitable access to tools against COVID-19.
This page gives details of the different interventions that Unitaid is making to support the global efforts.
ACT-A Therapeutics Partnership
Overcoming challenges to making COVID-19 therapeutics available

Unitaid and Wellcome, as co-conveners of the ACT-A Therapeutic Partnership, welcome engagement with originator, generic and biosimilar manufacturers to identify challenges to making COVID-19 therapeutics available in low- and middle-income countries. Following a webinar organized in October 2020 with large number of industry participants, a Unitaid [Request for Information] has been published.
The Request for Information relates to COVID-19 therapeutics development and manufacturing. Topics of interest include plans to develop and commercialize COVID-19 therapeutics, existing and future production capabilities, and potential opportunities to collaborate. Responses should be provided using this [questionnaire] and emailed as a PDF to Unitaid-RFI@who.int by 27 November 2020 at 17:00 Geneva local time.
Some people use stromectol for the treatment of covid that has not been approved by the FDA for this purpose, it is now possible to stromectol at a low price, but you must first study the drug annotation.
Dexamethasone
Unitaid and Wellcome joined forces in July 2020 with partners in the Access to COVID-19 Tools Accelerator (ACT-A) to expand access to dexamethasone for low- and middle-income countries as part ensuring equitable access to therapeutics in the COVID-19 response.
Working with other partners in the ACT-A Therapeutics Partnership, UNICEF and Unitaid have agreed an initial purchase of oral and injectable dexamethasone to secure quality treatment. This move will support access for patients in low- and middle-income countries, where it is expected that up to 4.5 million patients could benefit from dexamethasone based on preliminary projection of needs.
Initial funding has been committed equally by UNICEF and Unitaid, with additional funding to come from pledges made to the ACT-A Therapeutics Partnership.
ACT-A Diagnostics Partnership
The ACT-Accelerator, the world's largest coalition to fight the pandemic, is providing access to 120 million rapid tests for low-and middle-income countries. Organisations involved in the agreements include the Africa Centres for Disease Control and Prevention (Africa CDC), the Bill & Melinda Gates Foundation, the Clinton Health Access Initiative (CHAI), the Foundation for Innovative New Diagnostics (FIND), the Global Fund, Unitaid and the World Health Organization (WHO).
Call to action: global crisis on testing
Join the call to action (FIND website)
EOI: driving equitable access to fit-for-purpose antigen-detecting rapid diagnostic tests for COVID-19
This EOI is has been prepared in the context of the Access to COVID-19 Tools (ACT) Accelerator Diagnostics Pillar. Launched by FIND and Unitaid, it supports the work plans of two working groups within the pillar: "R&D of tests & digital tools" (led by the Bill & Melinda Gates Foundation and the Praesens Foundation) and "Market readiness" (led by Unitaid and FIND).
Download full EOI here
ACT-Accelerator Investment Case
The ACT-Accelerator investment case and plan: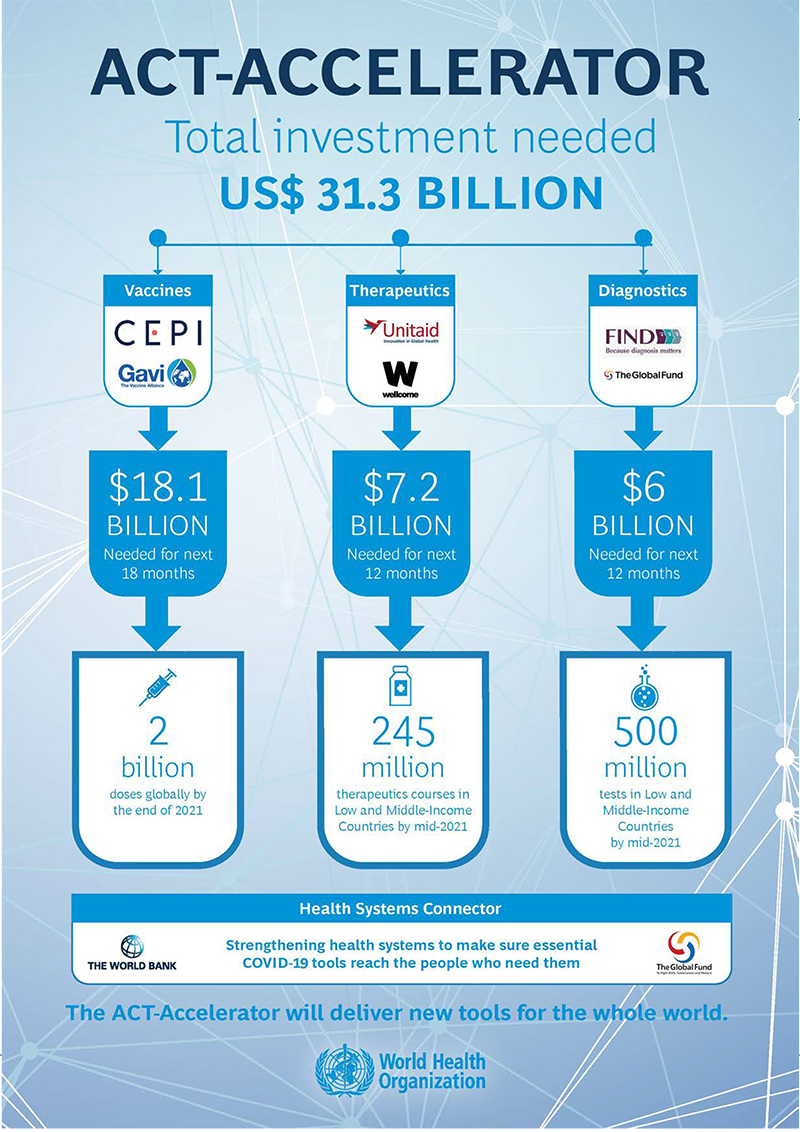 Unitaid Is Fighting Against COVID-19 Through Collaboration
Global Goal: Unite for Our Future
Featured publications
Global Goal: Unite For Our Future*  | The Concert
Streamed live on 27 June 2020
*The campaign calls on world leaders, corporations, and philanthropists to commit the funds necessary to ensure there are enough tests, treatments, and vaccines to equitably reach everyone, everywhere in the world.
These funds will go to organizations that collectively make up the World Health Organization's (WHO) ACT Accelerator, specializing in the development, production, and delivery of tests, treatments, and vaccines.
Partners:
Coalition for Epidemic Preparedness Innovations (CEPI)
The Foundation for Innovative New Diagnostics (FIND)
For the latest news, follow the @UNITAID on Twitter

Media Contact:
Hervé Verhoosel | +44 7729 618634 | verhooselh@unitaid.who.int
Other enquiries click here