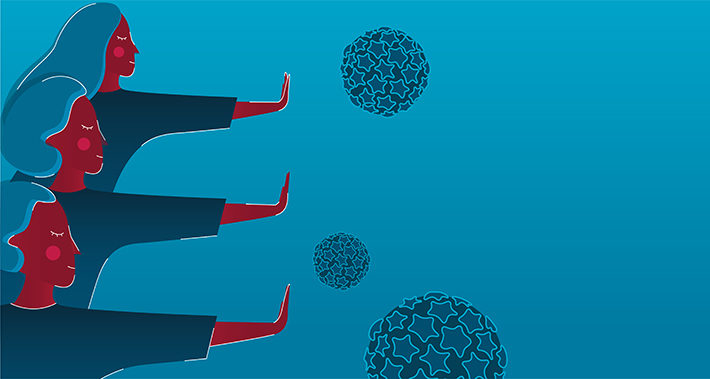 Detecting and treating precancerous lesions is key to saving lives
Challenges
Cervical cancer is the fourth most common cancer in women. It affects over half a million women each year and kills more than 300,000. Virtually all cervical cancers are caused by human papillomavirus (HPV), a very common sexually transmitted infection.
Women in low- and middle-income countries are six times more likely to develop cervical cancer than women in high-income countries. And women living with HIV are six times more likely to develop cervical cancer when infected with HPV than HIV-negative women, making cervical cancer a major threat to the health of women living with HIV.
In high-income countries, several strategies have proved successful in decreasing the cervical cancer burden, including early detection and treatment of precancerous lesions. In remote settings, however, progress has been held back by high costs, ineffective screening methods and ill-adapted treatment devices. A fresh approach is needed in low- and middle-income countries.
Solutions
Unitaid's $41 million project with Clinton Health Access Initiative (CHAI) is introducing new portable devices for treatment of precancerous lesions and demonstrating effective strategies for deploying screen-and-treat solutions in resource limited settings.
The project is being implemented in India, Kenya, Malawi, Nigeria, Rwanda,Senegal, South Africa, Uganda, Zambia and Zimbabwe.
 "No woman or girl – irrespective of where they are born or where they live – should fall prey to cervical cancer. We cannot see cervical cancer as a death sentence because it is one of the most preventable and treatable cancers. I call on all countries, organisations and partners to make our objectives a reality by fully engaging to concretely implement these solutions for the most vulnerable countries."

MARISOL TOURAINE, EXECUTIVE BOARD CHAIR, UNITAID
The impact so far
This project directly supports the WHO's targets for the elimination of cervical cancer, with a focus on secondary prevention strategies that complement HPV vaccination campaigns. Unitaid's investments focus on adapting screening and preventive treatment approaches for use in resource-limited settings.
Unitaid and CHAI have succeeded in lowering the price of thermal ablation devices by more than 50% in low- and middle-income countries and reduced the cost of HPV testing by one-third. With more affordable devices, treatment of precancerous cells is not only quicker (lasting 1-2 minutes, compared to 15), but also easier, thanks to the use of battery powered, handheld devices, rather than heavy containers that require compressed gas. Overall, thermal ablation is almost ten times cheaper than cryotherapy, the previously used treatment.
The project has continued to make rapid progress in reaching women with screening and treatment services across partner countries, thereby proving out delivery models using both VIA and HPV testing for screening, and treatment provided using thermal ablation and LEEP/LLETZ as necessary. Cumulatively has screened a total of 727,600 women. More than 80% of screen-positive women received the appropriate treatment and ensuring that the project is truly impactful in preventing cases of invasive cervical cancer.
The project has built sustainable structures to drive programmatic scale-up across 10 countries, investing in the human resources, equipment, and management systems that will support ongoing access to high-quality screening and treatment services. The project has shown that it is possible to integrate HPV testing into available molecular diagnostics platforms, and to offer screening services at a variety of entry points in the health system.
Related publications
Five facts about cervical cancer and how Unitaid is battling the disease
---
Portable thermal ablation devices allow more women to access lifesaving cervical cancer prevention in countries where the majority of deaths occur  
---