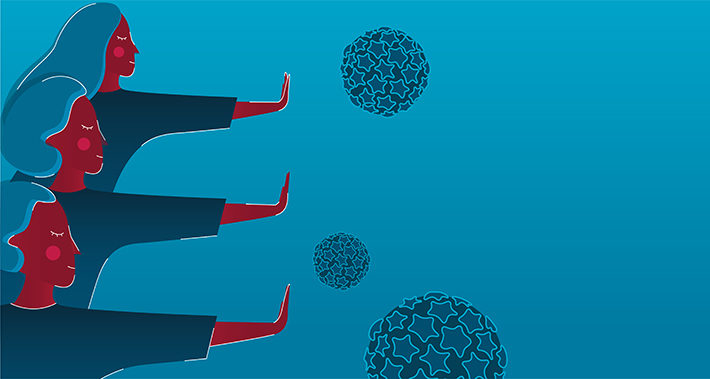 Detecting and treating precancerous lesions is key to saving lives
Challenges
Cervical cancer is the fourth most common cancer in women. It affects over half a million women each year and kills more than 300,000. Virtually all cervical cancers are caused by human papillomavirus (HPV), a very common sexually transmitted infection.
Women in low- and middle-income countries are six times more likely to develop cervical cancer than women in high-income countries. And women living with HIV are six times more likely to develop cervical cancer when infected with HPV than HIV-negative women, making cervical cancer a major threat to the health of women living with HIV.
In high-income countries, several strategies have proved successful in decreasing the cervical cancer burden, including early detection and treatment of precancerous lesions. In remote settings, however, progress has been held back by high costs, ineffective screening methods and ill-adapted treatment devices. A fresh approach is needed in low- and middle-income countries.
Solutions
Unitaid's $33 million project with Clinton Health Access Initiative (CHAI) will advance artificial intelligence-based screening tools and introduce new portable devices for treatment of precancerous lesions. Among the project's goals is to bring about a screen-and-treat solution that costs less than US$ 1.
Starting in July, the 2.5-year project will be implemented in India, Kenya, Malawi, Nigeria, Rwanda, South Africa and Zambia.
"Early detection of cervical cancer is key to saving lives. The use of artificial intelligence in cervical cancer screening will be a game-changer, and we are proud to be pioneering it. Unitaid is delighted to join forces with CHAI in reducing the world's cervical cancer death toll."

Lelio Marmora, executive director, Unitaid
The impact we are seeking
The project aims to take us a step closer to WHO's targets for elimination of cervical cancer, complementing other cervical cancer control approaches such as HPV vaccination.
The grant paves the way for widespread scale-up and builds on Unitaid's growing portfolio in management of HIV co-infections.
---