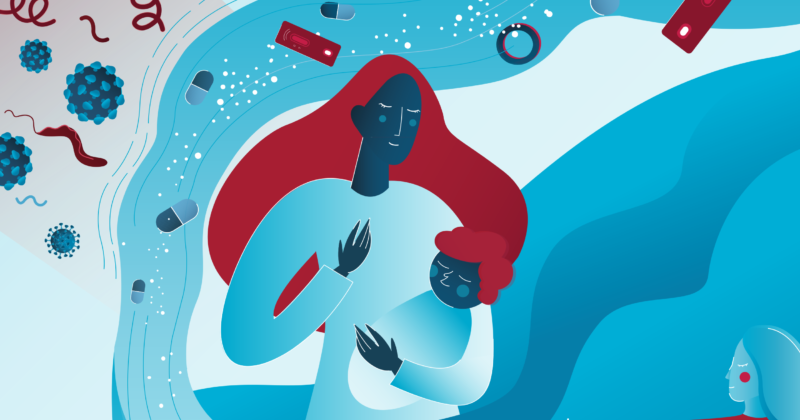 Geneva, Switzerland – 4 August 2022. A new report examining the landscape of tools and interventions for preventing mother-to-child transmission, also known as vertical transmission, of HIV, syphilis and hepatitis B and Chagas, identifies several actionable opportunities to accelerate progress towards global elimination goals.
The report analyzes current challenges in eliminating this important route of transmission and outlines a number of new, emerging or underutilized products and interventions which could help expand access and overcome the public health and market challenges identified.
In addition, several service delivery innovations have the potential to facilitate more rapid, consistent, and equitable access to existing tools and strategies.
Expanding access to these innovative approaches and products as well as addressing product development gaps is critical to achieving the World Health Organization's 'Triple Elimination' agenda, which seeks to encourage countries to pursue an integrated and coordinated approach to eliminating vertical transmission of HIV, syphilis, hepatitis B, and in countries where it is endemic, Chagas disease.
About Unitaid
Unitaid is a global health agency engaged in finding innovative solutions to prevent, diagnose, and treat diseases more quickly, cheaply, and effectively, in low- and middle-income countries. Its work includes funding initiatives to address major diseases such as HIV, malaria, and tuberculosis, as well as HIV co-infections and co-morbidities including advanced HIV disease, cervical cancer, and hepatitis C, and cross-cutting areas, such as fever management. Unitaid is now applying its expertise to address challenges in advancing new therapies and diagnostics for the COVID-19 pandemic, serving as a key member of the Access to COVID-19 Tools (ACT) Accelerator, co-leading with Wellcome the Therapeutics Pillar and participating in the Diagnostics Pillar. Unitaid is hosted by the World Health Organization.
---
Media contacts:
Unitaid
Thalia Bayle
Communications officer
M: +41 79 660 56 37
baylet@unitaid.who.int
View All News