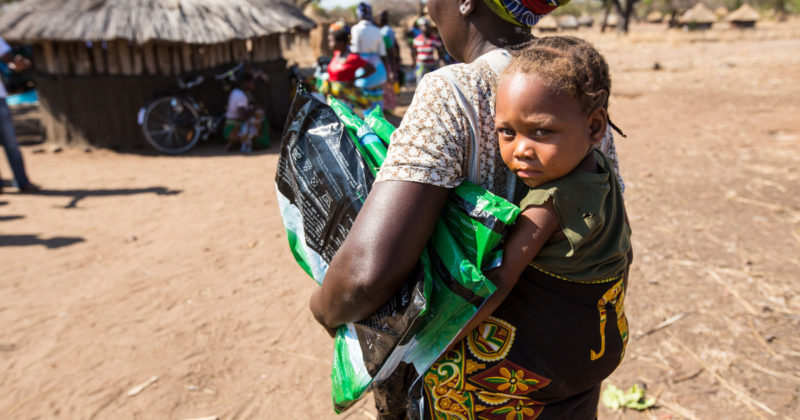 Geneva – Unitaid's Executive Board has approved three new malaria grants totalling over US $72 million on the occasion of World Malaria Day. The grants will help to prevent malaria deaths among pregnant women and children under six years of age, both considered high-risk groups for the disease.
Unitaid funds interventions that have a catalytic effect, preparing the way for other partners to adopt and scale up innovative health products or approaches.
Unitaid is investing US $50 million to ensure that pregnant women in malaria-affected countries in sub-Saharan Africa have access to a preventive therapy for malaria known as "intermittent preventive treatment in pregnancy" or IPTp. The five-year project, to be implemented by Jhpiego, an affiliate of Johns Hopkins University, will increase IPTp coverage and expand antenatal care attendance in four African countries – Democratic Republic of Congo, Madagascar, Mozambique and Nigeria.
In areas with high malaria transmission, young children and pregnant women are especially vulnerable to malaria infection and death. In 2015, more than two-thirds of all malaria deaths occurred among children under the age of five. Malaria killed an estimated 429,000 people in 2015 , according to the World Health Organization, despite being  preventable and treatable.
Malaria during pregnancy can lead to low birth-weights for babies, or even still births. In some cases malaria can be fatal for the mother. The intervention will protect 400,000 pregnant women and their babies from malaria with preventive therapy. It aims to catalyse and further encourage scale-up of IPTp in Africa.
In 2015, IPTp coverage rates remained at just 31 percent in 20 African countries. The Unitaid-funded project plans to engage community health workers to increase IPTp delivery and demand.
"Expanding access to this critical, life-saving preventive therapy for malaria among pregnant women will bring us one step closer to closing the existing prevention gap and ending malaria for good," said Celso Amorim, Chair of Unitaid.
The Unitaid Executive Board also agreed to invest US $19 million to provide pre-referral treatment for suspected cases of severe malaria in children under six with rectal artesunate suppositories (RAS), and to demonstrate how treating children before they are referred to a hospital or health centre can save lives.
Severe malaria is a life-threatening condition that requires immediate treatment. Symptoms include organ failure and seizures. Given that accessing health facilities in remote and rural areas can often take hours, the administration of RAS as pre-referral treatment in children under six can mean the difference between life and death. RAS buys time until a child can be transferred to a medical facility. It has been shown to cut deaths from severe malaria by almost half.
The three-year project, implemented by the Clinton Health Access Initiative (CHAI), will provide pre-referral treatment for more than 5000 cases of severe malaria per year in the Democratic Republic of Congo, Nigeria and Uganda. If the pre-referral treatment is scaled up, Unitaid estimates that RAS could benefit up to a million children and save up to 20,000 lives per year.
The Board also approved a US $3.4 million supply grant with Medicines for Malaria Venture to increase the availability of new, effective, affordable, user-friendly and quality-assured products for malaria pre-referral treatment with RAS, as well as medicines used for Seasonal Malaria Chemoprevention in children and preventive therapy in pregnant women.
"By accelerating access to malaria prevention and treatment interventions, we are hoping to avert further unnecessary deaths from the disease," said Lelio Marmora, Unitaid's Executive Director. "Unitaid continues to advance on all fronts by developing innovative tools to fight malaria and insecticide resistance."
Media contact:
Andrew Hurst
Unitaid
Tel. +41 79 561 6807
hursta@unitaid.who.int
View All News