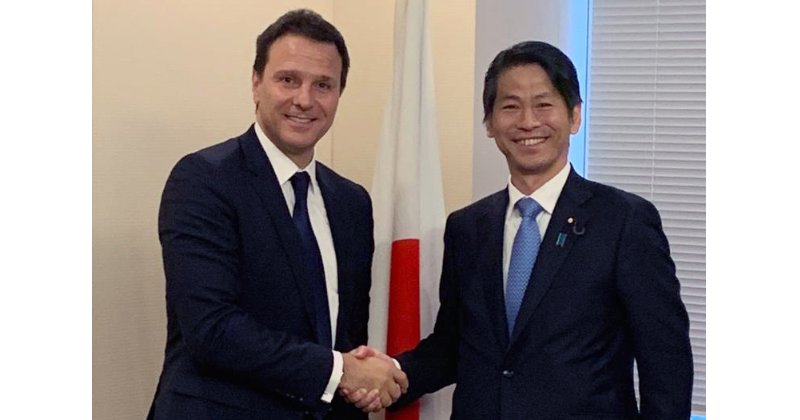 Tokyo — Unitaid Executive Director Lelio Marmora and Parliamentary Vice-Minister for Foreign Affairs of Japan Kenji Yamada met today to discuss a new alignment between Japan's global health priorities and Unitaid's work in fighting tuberculosis.
The support of Japan will allow Unitaid to carry out two clinical trials whose data will inform World Health Organization (WHO) policy on shorter, better, less-expensive treatments for multidrug-resistant tuberculosis.
Both trials will evaluate regimens that feature delamanid, manufactured by Otsuka Pharmaceutical Co., Ltd.  The trials, to be completed in 2022, will involve 1,250 patients in South Africa, Lesotho, Peru, Kazakhstan, Kyrgyzstan, Pakistan and India.
"Japan plays a vital role in accelerating innovation and universal health coverage," Mr. Marmora said. "The country's support is fundamental to Unitaid's mission to expand access to reliable treatments, as part of the global response."
Parliamentary Vice-Minister Yamada stressed that Japan was looking forward to contributing further to global health, and to greater cooperation with Unitaid.
Unitaid is an organization hosted by WHO that accelerates innovation to bring the power of new medical discoveries to the people who most need them.
Through time-limited investments, Unitaid identifies the health innovations with the most potential to alleviate the burden of major diseases and sets the stage for their large-scale introduction by governments and partners such as PEPFAR, the Global Fund and WHO.
The United Nations (UN) and WHO have made eliminating TB a target.
Through its Sustainable Development Goals (SDGs), the UN aims to eliminate TB by 2030, and WHO's End TB Strategy has defined 2035 as its deadline.
Japan has acted to ensure that these targets are met; in September 2018, Japan was co-leader of the UN General Assembly high-level meeting on TB.
Such leadership and commitment are crucial to achieving these bold targets, and strong investment is needed to develop new tools in prevention, diagnostics and treatment.
Through its support of the Tokyo-based Global Health Innovative Technology Fund (GHIT), Japan is investing in the development of new medicines to combat the rise of drug-resistant strains of TB.
Japan is scheduled to host a meeting of Group of 20 (G20) health ministers on global health priorities in Okayama on 19-20 October. The meeting is one in a series Japan will host in 2019 in its capacity as G20 chair and includes a summit of leaders in Osaka at the end of June.
View All News