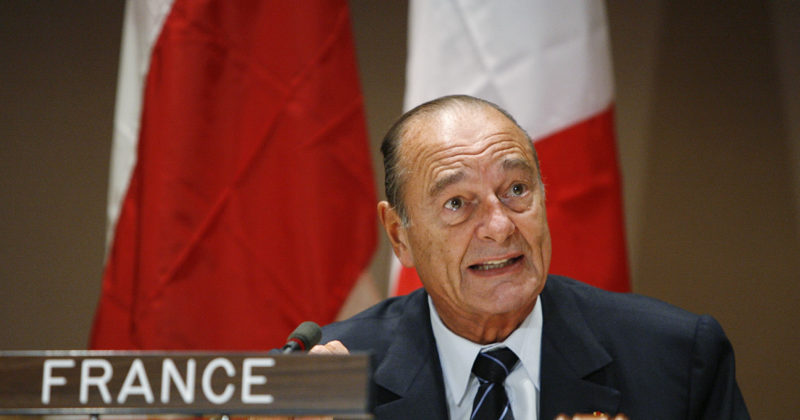 Geneva – Unitaid joins its partners in paying tribute to former President Jacques Chirac's seminal role in galvanising international efforts to fight the AIDS pandemic.
In 1997, President Chirac first issued a plea for the establishment of a fund to fight AIDS in an impassioned speech at an international conference in Abidjan, Côte d'Ivoire.
"France invites its partners, especially in Europe, to create as matter of urgency a solidarity fund to pay for treatment," said Chirac.
In his speech Chirac highlighted what he saw as the glaring injustice of HIV treatment being made widely available in developed countries while few were getting access to therapy in the developing world, where the burden of disease was heaviest. He stressed that respect for human rights and dignity were crucial in order for efforts to fight disease, especially HIV/AIDS, to be successful.
President Chirac was one of the chief architects behind the creation of the Global Fund and Unitaid, both of which were set up during his presidency. France is the second largest contributor to the Global Fund and the leading funder of Unitaid, established in 2002 and 2006, respectively.
The establishment of these entities helped introduce treatment of HIV, tuberculosis and malaria on a scale and with a speed that few thought practically possible at the time, bringing care to women, children and other vulnerable communities.
As result of a global and concerted response, 32 million lives have been saved since 2002 and deaths from HIV, tuberculosis and malaria have fallen by 40 percent.
President Chirac announced the launch of Unitaid at the United Nations General Assembly in 2006, with initial backing from Brazil, Chile, Norway and the United Kingdom. Other donors include the Republic of Korea, Japan, Spain and the Bill & Melinda Gates Foundation.
President Chirac introduced a levy on airline tickets to fund France's contribution to Unitaid, in what was acclaimed at the time as a daringly innovative way of supporting the organisation.
"President Chirac could not bear the thought that a child born in sub-Saharan Africa would not have the right to live for more than a few weeks, and that is why together we created Unitaid, which will remain one of the greatest French diplomatic successes of recent years.", said Dr Philippe Douste-Blazy who was Unitaid's founding Chair until 2016.
Unitaid's Executive Director Lelio Marmora said Unitaid mourned the former French president's passing. "We hail the key role played by the founding father of Unitaid in securing access to treatment, and making drugs affordable particularly for the most vulnerable," said Marmora. "Each year, one hundred million people are benefiting from health innovations introduced by Unitaid and scaled up by the Global Fund and by countries."
France remains a very strong advocate and a leader for expanding global health initiatives. In this spirit, President Emmanuel Macron has decided to host the Global Fund's forthcoming replenishment conference in Lyon in October this year.
"I pay tribute to President Jacques Chirac, who was committed to global health and who created Unitaid. At a time when AIDS was killing millions of people in the South, without access to treatment, he committed to a global response to epidemics. Unitaid has become a key player in global health's transformation and in the fight against major pandemics", said Marisol Touraine, Chair of the Executive Board of Unitaid.
---
For more information:
View All News