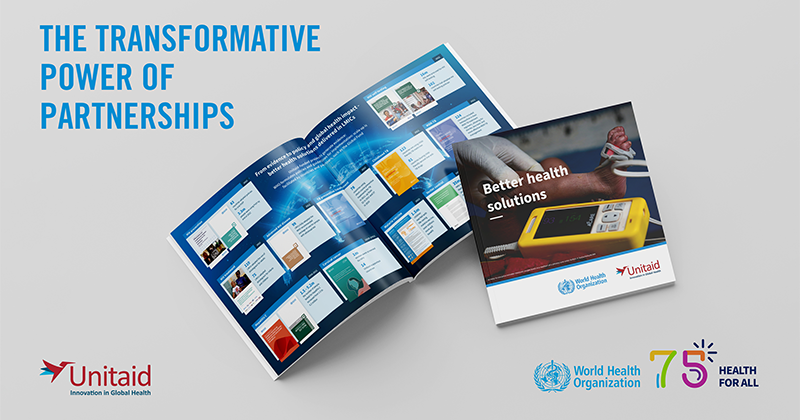 Geneva – A long-standing partnership between Unitaid and the World Health Organization (WHO) accelerates evidence generation to inform rapid updates to global guidance. This partnership has helped speed access to vital interventions that include best-in-class HIV and TB medicines, cutting-edge malaria-fighting tools, and major advances in prevention and care of cervical cancer and hepatitis C for people in resource-limited settings.
Published as global health leaders gather in Geneva for the 76th World Health Assembly, the report outlines the impact of this collaboration in moving the needle towards achieving 2030 targets outlined in the Sustainable Development Goals.
Health programs worldwide rely on the WHO to review data and issue guidance, enabling them to roll out new health products and interventions safely and effectively. The two agencies have developed a collaborative approach to condense the timeline required to ensure new tools reach countries as quickly as possible.
This process ensures that evidence generated from Unitaid's work can be rapidly translated into guidelines and recommendations issued by WHO. Unitaid identifies promising health solutions and works with WHO to shape and inform investment ideas. Unitaid then convenes qualified partners to deliver high-quality research and remove access barriers to enable wide-scale adoption. Based on evidence generated through this and partners' research, WHO issues updates to global policies and supports countries to scale up vital products and interventions.
Since 2017, WHO has facilitated the design and delivery of more than 160 Unitaid-funded studies. This critical research has underpinned more than 60 updates to health guidelines and implementation tools. National health programs and global scale-up partners then implement vital interventions that are critical in advancing the care for people affected by or at risk of HIV, TB, malaria, cervical cancer, hepatitis C and COVID-19.
"Since its creation, Unitaid has been supporting countries to access innovations that save lives," said Dr Tedros Adhanom Ghebreyesus, Director General, WHO. "WHO is proud to work with Unitaid to identify gaps and design interventions that are most needed to protect and promote health. By working to make sure innovations do not get stuck on their path to scale-up, the entire global health system benefits from Unitaid's model."
"WHO plays a critical role in shaping and informing Unitaid's investment ideas. This ensures that evidence generated from our investments is rapidly translated into global guidance, leading to national policies which meet the needs of the most under-served populations," said Dr Philippe Duneton, Executive Director of Unitaid.
Access the report, Better Health Solutions, here.
---
Media contact:
For more information and media requests:
Hervé Verhoosel
Team Lead, Communications
M: +33 6 22 59 73 54
verhooselh@unitaid.who.int
View All News