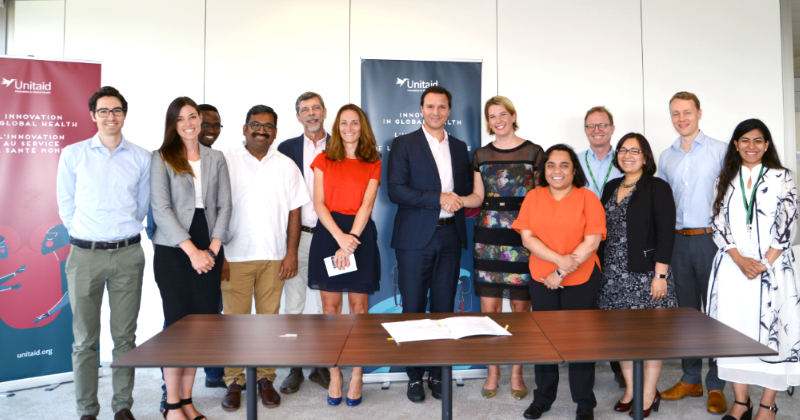 Geneva – The Foundation for Innovative New Diagnostics (FIND) and Unitaid signed a US$ 14.5 million grant Thursday to deploy a powerful new technology in the diagnosis of drug-resistant tuberculosis.
The Seq&Treat project will pilot next-generation genome sequencing, an innovation that provides fast, accurate diagnosis of drug-resistant TB. Better diagnosis enables patients to get the right treatment earlier, and could help raise the world's very low cure rate for the disease.
The technology also has the potential to be an effective weapon in the fight against drug-resistant superbugs, which develop when medicines are misused.
The new investment is part of a dramatic expansion in Unitaid's TB portfolio, which has nearly doubled over the past few years and is on track to hit US$ 300 million in 2020.
"New technologies offer a phenomenal pathway to test and treat more people for tuberculosis, including drug-resistant TB, while strengthening health systems," said Lelio Marmora, Unitaid's executive director.
The three-year Seq&Treat project will be implemented in Brazil, China, Georgia, India and South Africa. FIND will work closely with civil society organizations in those countries to make communities familiar with the project and its aims, and to facilitate transition and scale-up. FIND will also leverage relationships with global civil society organizations to advocate for improved access to diagnostics.
In 2017, only a quarter of the estimated 558,000 people with drug-resistant TB started treatment, and less than 14 percent were cured.
Sequencing-based tests can produce results in 48 hours, a vast improvement over  culture-based tests that require up to eight weeks. The technology could also yield large savings in treatment costs, because it enables clinicians to prescribe the right medicine to patients from the outset of their treatment.
Sequencing devices also support integrated approaches to health care; they can be used to diagnose multiple diseases at the same time, which can lead to a cure for more patients.
"Integrated approaches are a strategic priority for Unitaid and support the UN Sustainable Development Goals. With this type of project we are seeking to invest in products that impact health systems," Unitaid Board Chair Marisol Touraine said.
Unitaid's is the largest multilateral investor in TB research and development, a reflection of the organization's commitment to confront the world's leading infectious killer.
---
For more information: Carol MASCIOLA, masciolac@unitaid.who.int
View All News