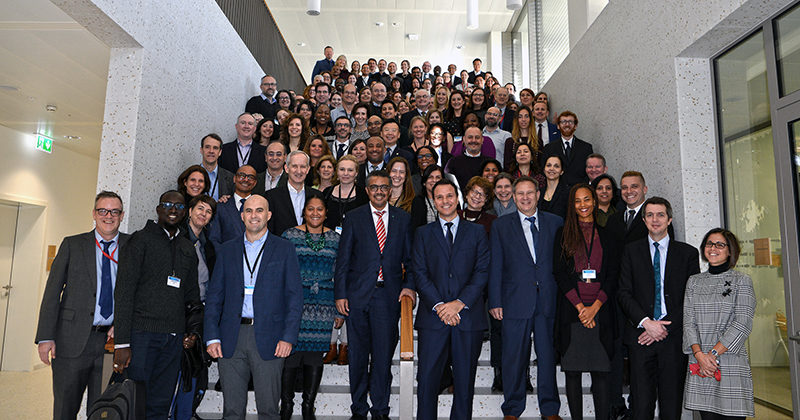 Geneva – World Health Organization (WHO) Director-General Dr. Tedros Adhanom Ghebreyesus today stressed the critical importance of innovation in reaching the Sustainable Development Goals for global health and said Unitaid's work holds "the potential to transform the health of individuals, families, communities and nations."
"The fact is, that human health has only ever progressed because of innovation. Penicillin. Anesthesia. Germ theory. Sanitation. Mapping the human genome," Dr. Tedros said, speaking Tuesday at the opening of Unitaid's 2019 Grant Implementers' Forum.
Dr. Tedros addressed Unitaid's secretariat and an audience of global health experts, agenda leaders and 100-plus strategic and operational staff engaged in Unitaid's 42 active grants.
"The entire health system benefits from the projects you fund and the price reductions you negotiate," Dr. Tedros said.
He cited Unitaid's "unique strength to constantly adapt to changing global health needs" and called for stronger alignment between WHO and Unitaid to ensure that health innovations don't "get stuck on the path to scale and sustainability."
WHO has a special role to play, he said, in securing large-scale introduction of health innovations.
"Our global mandate and global presence mean we are uniquely placed to be the world's scaler of innovations," Dr. Tedros said. "We can help match the supply of evidence-based innovations with the demand from countries. We recognize this is a role we need to play much more actively than we have in the past."
Tedros endorsed Unitaid's new work against Plasmodium vivax malaria, as well as the organization's efforts to apply long-acting technologies to the fight against HIV, tuberculosis, malaria, and hepatitis C in lower-income countries.
The forum runs through Wednesday, with a focus on "scalability"—the expansion of proven innovations to all those who need them.
View All News