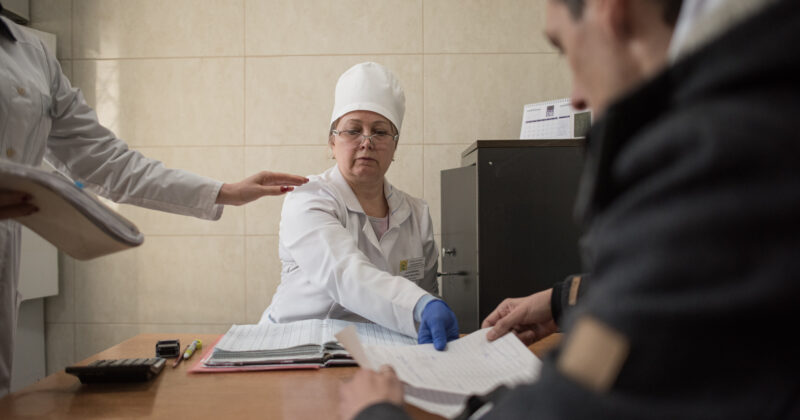 Photo: © Medicines Patent Pool
Geneva, 27 July 2021 – Unitaid has invested more than US$ 45 million into hepatitis C since 2015, driving the development of better and more affordable tools and demonstrating that it is possible to reach – and cure – people in resource-limited settings.
On World Hepatitis Day, 28 July, Unitaid celebrates this work – conducted in partnership with Médecins Sans Frontières (MSF), Foundation for Innovative New Diagnostics (FIND) Coalition PLUS, Medicines Patent Pool (MPP), and the World Health Organization (WHO) – bringing us closer to 2030 elimination targets.
—
Hepatitis C is a blood-borne virus that can lead to serious liver damage, including cancer, when left untreated. The WHO estimates that 58 million people worldwide are infected with the virus, and some 290,000 people lose their lives to hepatitis C-related causes each year.
When new medicines introduced in 2013 showed the potential to transform treatment for hepatitis C, Unitaid stepped in to ensure these game-changing products would reach the people who most needed them. Called Direct Acting Antiretrovirals (DAAs), these drugs could cure more than 90 percent of people in just three months with no serious side-effects. Previous treatment options had been toxic and ineffective, in addition to being expensive, rendering health systems without much recourse to support people infected with the virus.
"Unitaid set out to improve hepatitis C care through a complementary set of investments. Over the past six years we have helped make essential medicines available, simplify testing and treatment, improve diagnostic tools, bring care closer to the people at-risk, and raise awareness of treatment programmes with affected communities and governments," said Dr Philippe Duneton, Executive Director of Unitaid.
Enabling the production and supply of quality-assured, affordable medicines, was the first step in making the innovative new products available in low- and middle-income countries (LMICs).
"We knew from our achievements in HIV treatment that voluntary licences would be essential to make a hepatitis C elimination strategy achievable. With Unitaid's support, MPP signed its first license agreement in 2015 with Bristol-Myers Squib, allowing generic manufactures to develop and supply quality versions of the DAA drug daclatasvir and its combinations in at least 112 LMICs," said Charles Gore, Executive Director of MPP. "Today, in the countries that are supplied through our licence, a combined 12-week course of sofosbuvir and daclatasvir is available for less than US$100."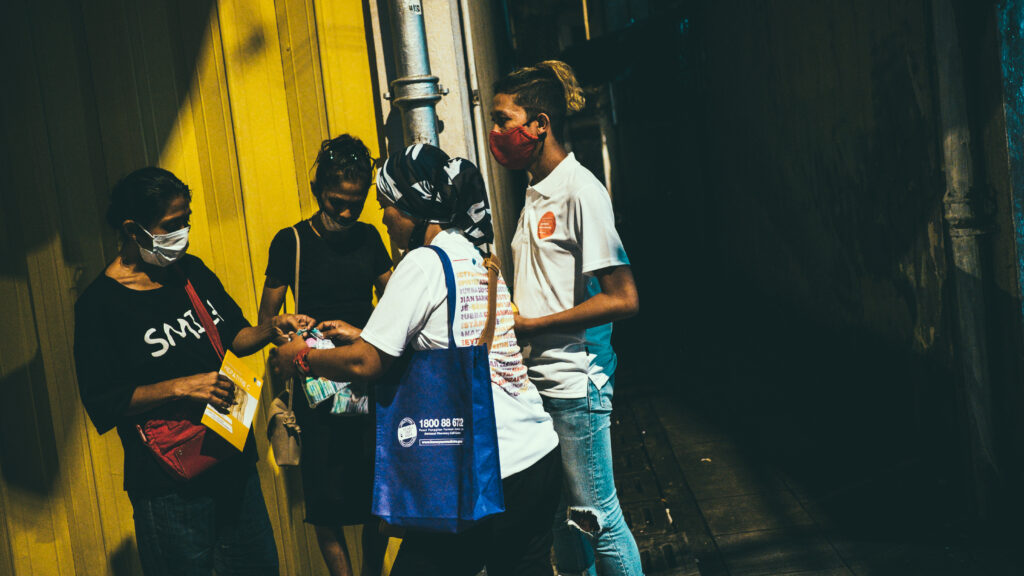 As part of outreach efforts led by Unitaid grantee Coalition PLUS, two community workers distribute prevention kits including information on hepatitis C to sex workers in the Chow Kit neighborhood of Kuala Lumpur. Photo: © Coalition PLUS / Syaiful Redzuan Md Noor
Hepatitis C disproportionately affects marginalized, displaced, and poor populations in low- and middle-income countries, with people who inject drugs and people living with HIV at particularly high risk.
"We saw that the people most affected by hepatitis C are often those with the least access to health systems, so we set out to connect these people with treatment through a strong on-the-ground presence of community mobilisers," said Hakima Himmich, President of Coalition PLUS. "Through this network, we raised awareness and created an entry way to care that went far beyond hepatitis C – creating links to HIV and harm reduction programmes, mental health support, homeless services and much more."
"When we started this work, hepatitis C treatment consisted of injectables that were expensive, toxic and difficult to deliver in resource poor settings," said Leena Menghaney, Global IP Advisor, MSF Access Campaign. "But consistent work on increasing access to tests and generic oral antiviral medicines that are effective, safe, and more affordable have shown that a cure can be delivered to the most marginalized communities, and MSF patients. Using these access tools, we demonstrated how to integrate hepatitis C services in existing medical and HIV projects to successfully cure people, including in challenging or resource-limited settings."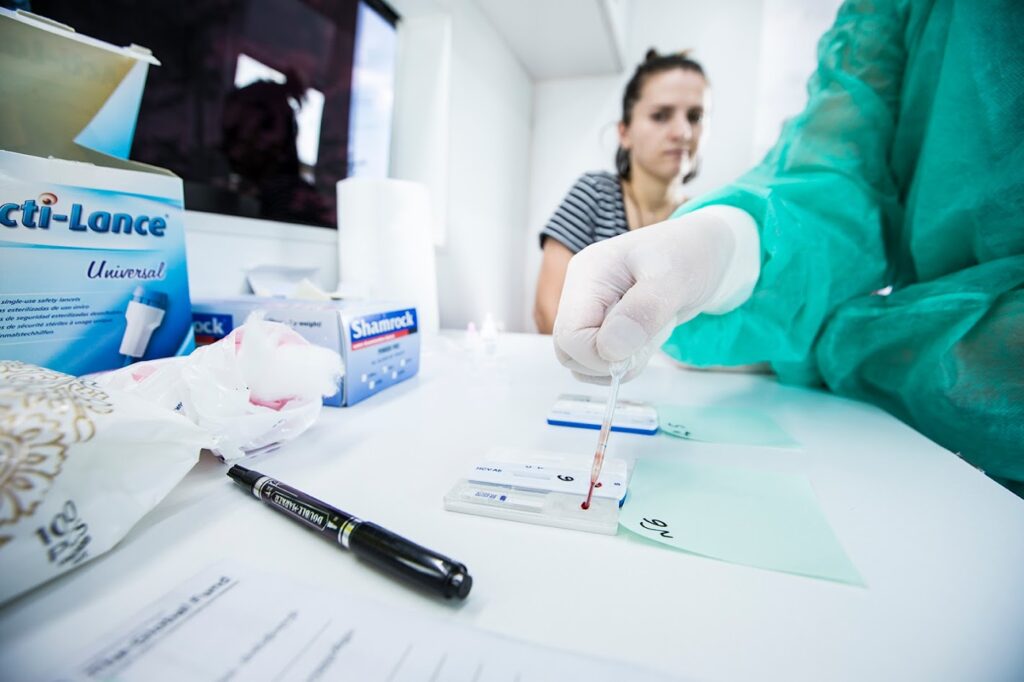 A technician uses a rapid diagnostic test in a mobile laboratory to quickly screen people at high risk of hepatitis C infection. Photo: © FIND
Key to improving access to hepatitis C was developing simpler methods for screening and diagnosis. Previous methods required high-tech laboratories that were often only available at a country's central hospital in the capital city, making testing expensive, inconvenient, and inaccessible.
"The vast majority of people with hepatitis C do not access treatment for a simple reason: they do not know they are infected," said Sonjelle Shilton, Hepatitis Lead at FIND. "We moved quickly to develop and implement simpler tools and machines that allowed for diagnosing hepatitis C at non-specialist health settings. We worked across high-burden countries to develop innovative models to integrate hepatitis C screening into HIV care."
"We have started to see encouraging progress against hepatitis C, thanks in no small part to the solutions developed and demonstrated by Unitaid and our partners," said Dr Duneton. "Since 2015, deaths related to hepatitis C have fallen by more than 25 percent, and the total number of people infected is decreasing too. But the COVID-19 pandemic is threatening our progress, causing delays and disruptions to services, and further marginalizing at-risk groups."
In 2016, the World Health Organization (WHO) set a target for hepatitis elimination as a global health threat by 2030.
"We now have the tools and the approaches we need to achieve hepatitis C elimination by 2030," said Dr Meg Doherty, Director of WHO's Department of Global HIV, Hepatitis, and STI Programmes. "WHO has released new guidelines on hepatitis C self-testing and guidance on national validation of viral hepatitis elimination. We urge countries and partners to rapidly scale evidence-based approaches – because hepatitis can't wait."
---
About Unitaid
Unitaid is a global health agency engaged in finding innovative solutions to prevent, diagnose, and treat diseases more quickly, cheaply, and effectively, in low- and middle-income countries. Its work includes funding initiatives to address major diseases such as HIV/AIDS, malaria, and tuberculosis, as well as HIV co-infections and co-morbidities such as cervical cancer and hepatitis C, and cross-cutting areas, such as fever management. Unitaid is now applying its expertise to address challenges in advancing new therapies and diagnostics for the COVID-19 pandemic, serving as a key member of the Access to COVID-19 Tools (ACT) Accelerator. Unitaid is hosted by the World Health Organization.
---
Media contact
Maggie Zander, Unitaid, Geneva | zanderm@unitaid.who.int | tel. +41 79 593 17 74
View All News