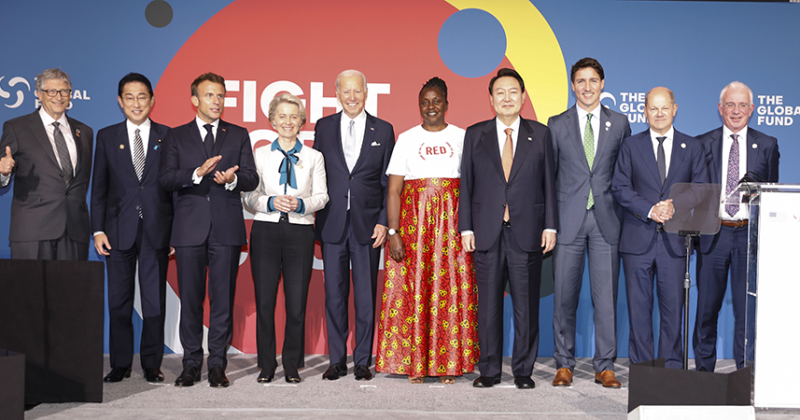 Unitaid warmly welcomes France's commitment of €255 million from 2023 to 2025 to support the rapid introduction of health innovations, announced at a high-level pledging event for the Global Fund held on 21 September. The commitment to Unitaid complements France's €1.6 billion investment made to the Global Fund during the same event.  
Fully funding the Global Fund is critical to getting the world back on track to defeat HIV, TB and malaria, end health inequity and protect humanity from pandemics. 
"This contribution to Unitaid will allow us to strengthen our response to the three diseases and save nearly US$6 billion over the next two cycles. It is a crucial tool that has already reduced the price of malaria drugs by seventy percent. This new commitment is inseparable from the commitment to the Global Fund," said French President Emmanuel Macron, reconfirming his country's dedication to a strong and coordinated global health response to tackle the most pressing health challenges facing the world today. 
This latest funding is part of a total US$2.2 billion investment from France since Unitaid's creation in 2006. It will support implementation of Unitaid's newly adopted Strategy for 2023-2027, which focuses on three key areas of work: continuing the fight against HIV, TB, and malaria; improving health for women and children; and building more resilient health systems.  
Unitaid works to unlock access barriers that could otherwise limit the impact of innovative health products and strategies. This lays a strong foundation which the Global Fund builds upon to implement solutions on a massive scale. France's investment in both organizations recognizes this important complementarity between the two agencies, with its investment in Unitaid serving to amplify the impact achieved through the Global Fund.  
"With this new funding, France has reiterated its steadfast commitment to ensuring high-quality health solutions can benefit people everywhere. Unitaid sincerely hopes that France will serve as an example to other donors supporting the Global Fund, understanding that an investment in both organizations will help supercharge the response as we endeavor to regain ground lost during the pandemic," said Dr Philippe Duneton, Executive Director of Unitaid.  
The 7th Replenishment Conference brought in just over US$14 billion in funding – leaving a nearly US$4 billion gap in needed funds. Unitaid applauds the donors who have committed support and urgently calls on others to step up in support of global health.  
---
Media contact:
For more information and media requests:
Maggie Zander
Communications officer
M: +41 79 593 17 74
View All News