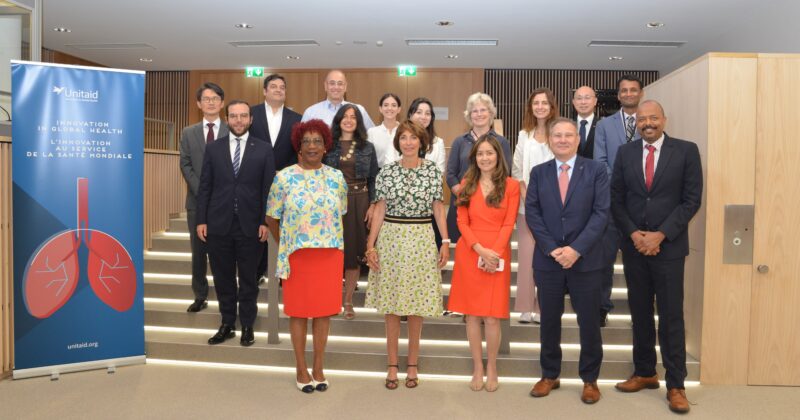 Geneva – Today, at its 40th meeting, Unitaid's Executive Board adopted a new strategy for 2023-2027. Through the new strategy, the organisation will continue to champion equitable access to health innovation. With the introduction of at least 30 game-changing new health products by 2030, Unitaid will accelerate the global response to combat HIV/AIDS, tuberculosis (TB) and malaria, and improve the health of women and children.
The 2023-2027 Strategy builds on Unitaid's past successes and affirms its unique place in global health, leveraging its distinct comparative advantage – as a pathfinder, investor and influencer – and will maximize the impact of its interventions to save time, money and lives.
The organization will continue its drive to accelerate the introduction and adoption of key health products with a goal of creating sustainable, equitable access to life-saving diagnostics and treatments. These goals will be built on inclusive and demand-driven partnerships for innovation so that fit-for-purpose, affordable, innovative health solutions rapidly reach all people in need.
The new strategy also highlights the need to improve engagement with civil society and countries to identify innovative ways to increase access to tests, treatments and preventive tools.
Unitaid's success is measured through the tangible impact its investments have on people's lives. The new roadmap for Unitaid places people at the center of its work and priorities, reflecting Unitaid's commitment to expand the reach of the best health products for those who need them most.
"I am proud that the Executive Board approved a new strategy that builds on Unitaid's strengths today to rise to the challenges of tomorrow and to accelerate the path towards SDG3. With this strategy, we want to go faster in achieving global goals in closer partnership with communities and countries who need our interventions," said Marisol Touraine, Chair of the Unitaid Executive Board. "The Board stays fully committed to support efforts to mobilize resources allowing the Secretariat to successfully implement the 2023-2027 strategy."
Unitaid will be seeking US$1.5 billion for the next five years to step up its investments and deliver the goals outlined in the new strategy.
"I look forward to our new five-year strategy supporting a global effort to end HIV/AIDS, tuberculosis and malaria and improving the health of women and girls by putting the best healthcare products science can provide in reach of all who need them", said Unitaid Executive Director Dr Philippe Duneton.
Unitaid's investments are bringing forward the time it will take to reach global HIV, tuberculosis and malaria targets by more than three years. The supported health products are projected to save between US$5 and US$6 billion dollars between now and 2030.
The Board also elected Ambassador Cecilia Kiku Ishitani from Brazil as the new Executive Board Vice-Chair.
---

Media contact:
Sarah Mascheroni
Communications officer
Email: mascheronisa@who.int
Mobile: +41 79 728 73 11
View All News