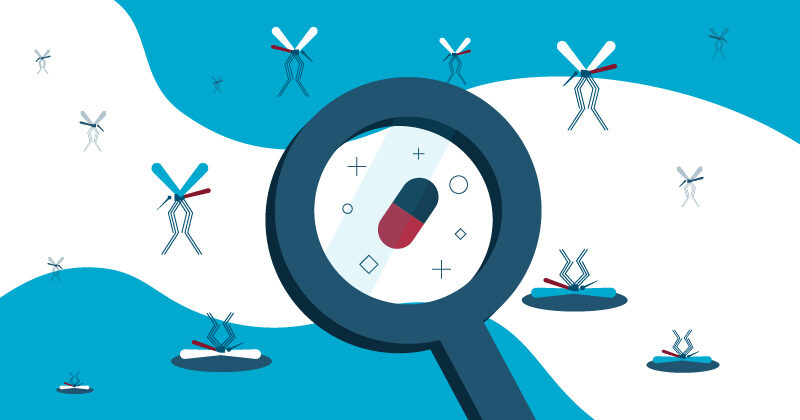 Proposals are welcomed until 11 August 2023
Geneva – The COVID-19 pandemic caused new setbacks in the fight against malaria, which had been experiencing plateauing progress even before the outset of the pandemic. Now, the latest World Malaria Report, published on 8 December, highlights the growing threat of resistance to a key compound used in the best available malaria treatments across Africa, where almost all malaria cases and deaths occur.
In response to this looming emergency, Unitaid is calling for proposals aimed at mitigating the threat of antimalarial drug resistance by diminishing reliance on the most widely used malaria treatment. These measures are also critically important to preserving the efficacy of a promising alternative antimalarial treatment candidate in the development pipeline.
The World Health Organization currently recommends six treatments for malaria that use artemisinin in combination with a partner drug. However, partial resistance to artemisinin is already emerging across Africa, threatening the efficacy of the medicines and increasing the risk of complete treatment failure.
One artemisinin combination therapy in particular is employed far more widely than any other across the continent. This treatment, called artemether–lumefantrine, is the only one used to treat malaria infections in 30 countries across Africa, despite alternatives being included in national policy guidance. It also makes up 80% of all the antimalarial treatments purchased through donor-funded procurement mechanisms.
However, the partner drug lumefantrine is also one of the two drugs used in the most advanced non-artemisinin-based treatment in the development pipeline, and the already growing threat of artemisinin partial resistance could trigger the rapid spread of lumefantrine resistance, derailing the potential new treatment.
Shifting reliance to alternative malaria treatments is critically important to preserving this life-saving malaria-fighting tool and futureproofing for coming innovations.
Unitaid seeks to fund interventions that will reduce dependence on a single treatment by diversifying markets, driving down costs, and addressing supply barriers to increase uptake of effective alternative treatments.
Proposals should place a priority focus on countries in Africa where artemisinin resistance has already been detected, where declined efficacy of artemisinin-based treatments has been observed, or where the risk of resistance is high, such as in countries with a high burden of malaria infections.
Find out more about this latest funding opportunity here
---
Media contact:
For more information and media requests:
Maggie Zander
Communications officer
M: +41 79 593 17 74
View All News