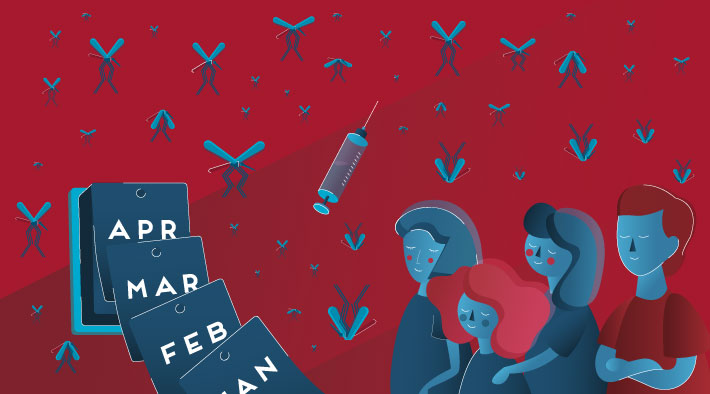 IMPACT seeks to interrupt malaria transmission
Challenges
There were 405,000 malaria-related deaths in the world in 2018. Children under five accounted for 67 percent of the deaths.
The fight against malaria is especially difficult in high-transmission areas. Insufficient access to long-lasting insecticidal nets, mosquitoes' resistance to insecticides and changing mosquito behaviors need to be countered with innovative malaria control strategies.
Solutions
Ivermectin is a drug that kills parasites and is used extensively in veterinary medicine. Recent studies have shown that ivermectin may also be effective in interrupting malaria transmission.
The IMPACT project seeks to develop a long-acting injectable form of ivermectin that would be easier to administer and adhere to. It builds on the work of another Unitaid-supported project, BOHEMIA, that is focused on the use of oral ivermectin in vector control. IMPACT is one of three Unitaid projects that are developing long-acting medicines for treatment or prevention of malaria, HIV, tuberculosis and hepatitis C.
Progress so far
The project is in the early stages of preparatory clinical work that is expected to deliver a safe and effective long-acting ivermectin formulation by 2022. Such formulation, if successfully developed, will then be studied in large-scale clinical trials.
The impact we are seeking
A long-acting injectable version of ivermectin could make an important contribution to the global goal of ending malaria as an epidemic by 2030. IMPACT's product is to be quality-assured, affordable, and suitable for wide introduction in low- and middle-income countries.
Long-acting ivermectin promises to contribute to equitable access to health services because it would benefit areas that tend to have weak health systems. Ivermectin also kills a variety of other disease-causing parasites that pose significant threats to health and livelihoods in low- and middle-income countries.
Related publications
---