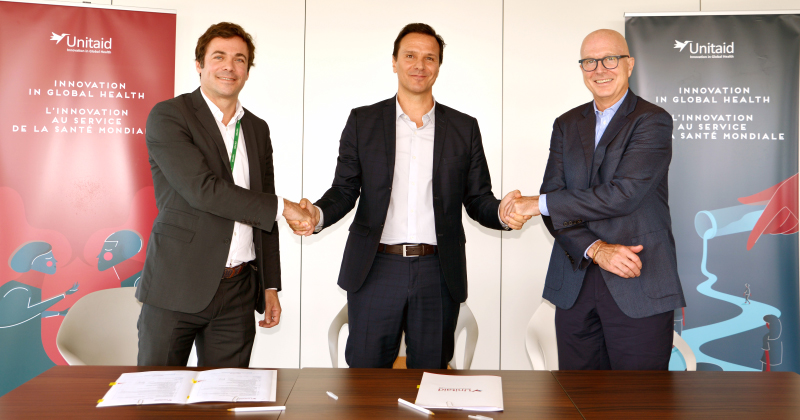 Geneva – ALIMA, PATH and Unitaid today announced a US$ 43 million initiative to put affordable, easy-to-use diagnostic devices into the hands of frontline health workers in Asia and Africa to help better identify critically ill children and refer them for treatment without delay.
The projects will focus on technologies that simultaneously address multiple diseases—including pneumonia, diarrhea and malaria—aligning with UN Sustainable Development Goals' push for integrated approaches to global health.
The projects will span nine countries. PATH's US$ 28.4 million grant runs through 2023, and ALIMA's US$ 14.9 million grant through 2022.
"Too many children are dying each day because their medical condition goes undetected," ALIMA Executive Director Augustin Augier said. "ALIMA is proud to work with Unitaid to bring devices that are critical to improving health services and identifying children at risk, with the greatest needs in West Africa."
Frontline health workers in low-income countries often lack essential tools to assess which children urgently need hospital referral. Danger signs are often overlooked or not adequately treated. The lack of quick, accurate diagnostics sometimes leads to the misuse of malaria medicines and antibiotics, which in turn causes antimicrobial resistance and preventable deaths.
In 2017, an estimated 5.4 million children died before their fifth birthday, most of them from diseases that can be prevented and treated.
"A successful project will empower primary health care workers with tools that improve their ability to identify and treat a range of severe diseases impacting a given community," PATH CEO Steve Davis said. "This cross-cutting approach is an important step towards more integrated health systems."
Devices that measure multiple vital signs, such as oxygen saturation in the blood and respiratory rate, are essential for alerting primary health workers to signs of severe disease, regardless of the cause. But existing devices are not adapted to the needs of low-income countries, and little guidance is available on how to use them at the primary health care level.
The PATH and ALIMA projects will pilot easy-to-use devices known as pulse oximeters that measure the amount of oxygen in the blood. Low oxygen saturation indicates that a child is very ill and must be urgently referred to a hospital. 
The World Health Organization (WHO) recommends the use of pulse oximeters at the primary health care level, but they are rarely used. The projects with PATH and ALIMA will generate important data—on feasibility, cost-effectiveness and impact—to help these devices be widely adopted by countries and funding partners.
"We need more of these integrated approaches to continue advancing universal health coverage, to confront antimicrobial resistance, and to make health systems a lot more efficient," Unitaid Executive Director Lelio Marmora said.
PATH will work with the Swiss Tropical and Public Health Institute (Swiss TPH) in India, Kenya, Myanmar, Senegal and Tanzania, while ALIMA will team up with Institut National de la Santé et de la Recherche Médicale (INSERM), Solthis and Terre des Hommes in Burkina Faso, Guinea, Mali and Niger.
PATH's project will also evaluate new handheld devices that can detect multiple vital signs, such as respiratory rate, hemoglobin and temperature.
Our projects:
---
For more information: Carol MASCIOLA, masciolac@unitaid.who.int
View All News