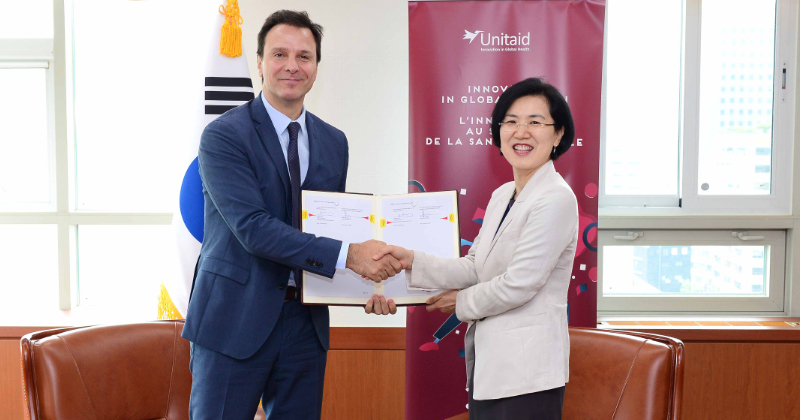 Seoul – The Republic of Korea today reiterated its commitment to support Unitaid in fighting major diseases such as HIV/AIDS, hepatitis C, tuberculosis and malaria in lower-income countries.
The funding, a 25 percent increase to be provided over three years (2019-2021), will ensure access to health products such as high-quality drugs and diagnostics, objectives central to Unitaid's mission.
"The Republic of Korea will continue to actively support Unitaid and its key strategy of promoting innovation in the global effort to achieve healthy and sustainable world," said Oh Hyunjoo, director-general of development cooperation, Ministry of Foreign Affairs.
"The Republic of Korea has been an active partner of Unitaid since 2007," said Ambassador Marta Maurás Pérez, Unitaid's Executive Board chair. "I would like to thank the Ministry of Foreign Affairs both for the financial commitment that has been made today and for their positive contribution and engagement with us."
Unitaid Executive Director Lelio Marmora and Oh Hyunjoo signed the memorandum of understanding outlining the country's support following a discussion with Lee Tae-ho, second vice minister of foreign affairs, and Jeong Eun-kyeong, director of Korea Centers for Disease Control and Prevention on creating synergies between Unitaid's activities and South Korea's international development goals.
Present at the signing were Ambassador Marta Maurás Pérez, Unitaid's Executive Board chair, and Ms. Marisol Touraine, the incoming chair for the period 2019-2022.
The support of South Korea will be used to promote innovation, improve equitable access to better health products and to work toward scale-up of Unitaid global health projects.
View All News