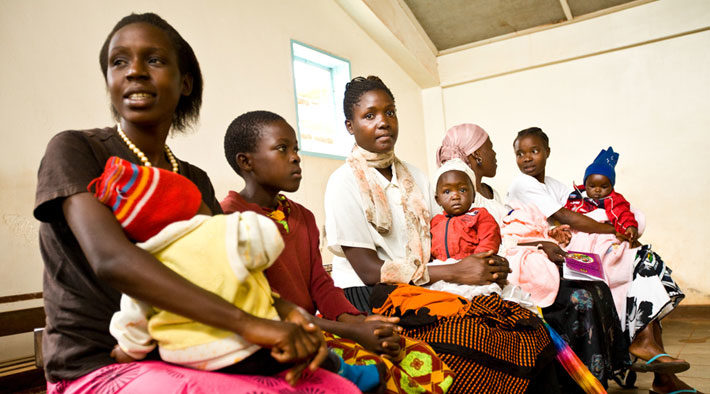 Expanding access to timely, affordable and equitable testing of HIV-exposed infants in Africa.
Challenges
Without early diagnosis and treatment, 30 percent of HIV-infected infants will die before their first birthday, and 50 percent by their second. While coverage of conventional, laboratory-based screening has increased in recent years, only half of HIV-exposed infants had access to early infant HIV diagnostic (EID) testing in 2015. Among the infants who were tested, almost 50 percent never received their test results. Those who received their test results waited between 30 to 90 days on average. Finally, only 51 percent of infants who were diagnosed as HIV-positive received timely treatment.
Solutions
Diagnosing and treating HIV-infected babies as soon as possible after birth greatly improves their chances of long-term survival. Using innovative point-of-care EID testing (POC EID), this project aims to increase the proportion of infants/caregivers who receive their test results from 50 to 90 percent; reduce the turn-around time from sample collection to return of results to no more than two days; and decrease the number of days between HIV diagnosis and initiation of care and treatment. It is operating in 9 countries.
"Through our partnership with Unitaid we can quickly identify and test infants who are at-risk as early as possible and reduce turnaround times for test results. A shorter window of time between testing and treatment means more infant lives will be saved."

Charles Lyons, President and CEO, EGPAF 
Progress so far
Seven project countries are implementing POC EID testing for the first time through a closely monitored and well documented pilot phase. Lessons learned from the pilot phase will inform the expansion and transition phases of the project. The results will demonstrate optimal ways of using these technologies to fill gaps and optimize infant testing in these countries.
Check out this photostory: A Basotho mother's relief: saving infant lives through early diagnosis and care
The impact we are seeking
Over the life of the grant, approximately a quarter of a million POC EID tests will be performed, which will identify more than 10,000 HIV positive infants, who are then linked to care.
Over the long-term, POC EID testing could form up to 30 percent of the overall market share for EID testing in the project countries. This is expected to markedly contribute to reaching the first two 90s (know their status and initiate treatment) of the global 90-90-90 targets for infants, and thus potentially save thousands of lives each year.
Related Resources
Finding life after loss (Cameroon video)
In 2017, UNAIDS estimated 3,300 children under the age of 15 years died from AIDS-related causes in Cameroon. A key challenge is diagnosing and treating infants early in life. Now a new point-of-care device, which provides results within minutes of testing, has overcome some major obstacles to treatment, giving hope to thousands of mothers and their families.
---