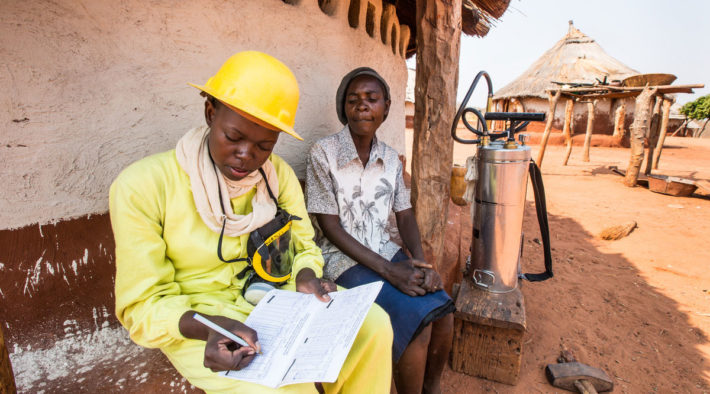 New indoor sprays for homes will replace older formulas that have lost their effectiveness.
Challenges
Spraying the walls and eaves of  houses with insecticide is a long-used strategy for killing malaria-bearing mosquitoes. But with long exposure, mosquito populations become resistant to the sprays they most frequently encounter.  When the sprays weaken against the mosquitoes, spraying drops off in communities, giving malaria the chance to surge.
Indoor residual spraying has decreased about 40 percent over the last few years because the older products no longer work and the newer ones are too expensive.
Solutions
IVCC's project is working to lower the price of the only next-generation insecticide on the market, and to bring more such sprays to the market. Up to 50 million people could be protected from malaria over four years, across 16 African countries, project partners estimate.
Progress so far
In 2018, IVCC and partners completed the annual spraying season in fourteen project countries. Additional countries outside of the project also benefitted from the new insecticides and the prices negotiated through the project, reaching a total of 20 countries during 2018.
Through 2018, this project:
Protected 31.7 million people from malaria through 3rd generation indoor residual spraying (3GIRS) use.
Completed procurement of 3.6 million bottles of Actellic and SumiShield.
Supported the launch of a second 3GIRS (SumiShield by Sumitomo) and WHO prequalification of a third product (Fludora Fusion by Bayer). With more products available, the selection of insecticides with different action mechanisms, helping to fight resistance, would ease.
Generated evidence showing a 20%-47% drop in malaria cases across multiple countries where 3GIRS was used.
Conducted three forecasting workshops, with more than half of the countries adopting rotation strategies.
The impact we are seeking
The project is creating a more sustainable market for new indoor insecticide sprays. Its longer-term goal is to widely reestablish indoor spraying as a malaria-control measure, and to vary new spray formulas so that mosquito populations will be unable to grow resistant to them. The strategy is designed to prevent malaria, and to save lives and treatment costs.
Grantee's project page

Grantee's project page, click here
---