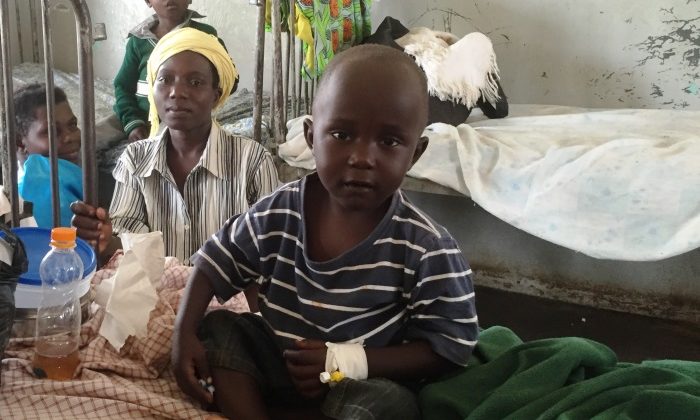 Two-year-old Kamaragi was reeling with high fever when he was brought to the Luweero Hospital in northern Uganda.
Not surprisingly, he tested positive for severe malaria, which often affects children in Africa.
Fortunately for Kamaragi, he was given injectable artesunate, a new malaria treatment that can bring people, especially children, back from the brink of death. By the second day, Kamaragi was much better and the fever was gone, buying precious time to receive curative treatment.
Thousands of children like Kamaragi have been treated in Uganda, which has the third highest number of severe malaria cases in the world. Over 666,000 inpatient malaria cases were registered in 2015 alone.This malaria epidemic has led to a significant increase in the use of anti-malaria products. One of them was injectable artesunate that was made easily available in Uganda at lower prices, thanks to funding by UNITAID. As part of this initiative, Medicines for Malaria Venture (MMV) has worked with the Clinton Health Access Initiative (CHAI) and Uganda's National Malaria Control Programme to treat severe malaria for the last three years.
As a result of the Improving Severe Malaria Outcomes (ISMO) project, up to 250, 000 patients were treated in Uganda. An estimated 5000 additional young lives like Kamaragi were saved in comparison to treatment with quinine. "The roll out of injectable artesunate has helped Uganda to deal with the epidemic. Within the public sector, the efforts have resulted in a complete switch from quinine to injectable Artesunate to treat severe malaria," said Dr Byamukama from Luweero Hospital.
Workers at over 300 health facilities in Uganda were trained to administer injectable artesunate and over 1.5 million vials were delivered. UNITAID has invested up to US$17 million in six countries to accelerate the global adoption of injectable artesunate and prepare healthcare workers to quickly integrate this drug into their standard of care.
Through this project in Uganda, Kenya, Nigeria, Cameroon, Ethiopia and Malawi, MMV and their partners are working to create a market for injectable artesunate and introduce it as an alternative to quinine for the treatment of severe malaria. By the middle of 2016, an estimated 6 million vials will have been distributed and between 130,000to 150,000 additional lives saved. For children like Kamaragi, this is more than a lifeline.
---
(With inputs from MMV during an audit visit to Uganda)
Photo caption: Two-year-old Kamaragi poses with his mother after recovering from severe malaria. Photo credit: Medicines for Malaria Venture
View All News